Salam Reader's!!~
hye u alls. oke. pagi tadi, i buka email. tengok inbox. dapat email from
Nuffnang!
wow! i suka email from
Nuffnang
. sebab they alls mesti email kan berita yang menggembirakan.
oke. this morning, email yang menggembirakan tu berkisar tentang
Be The World's Coolest Intern with Standard Chartered Bank
. at first, memang i tak faham. sehinggalah masa i taip entry ni, baru la i faham sikit-sikit. actually bagus tau program ni. untuk carik job yang lebih membina masa depan. selain itu, they alls focused on social media and online engagement. huih. siapa taknak kan, kalau yang train we alls tu adalah someone yang memang terbaik dalam business? hmm. u alls tahu siapa yang train the winners? they including
Qais Consulting
- Strategic Social Media Activation,
Edelman
- on PR,
JamiQ
- on Social Media Analytics, Christophe Langlois from
Visible Banking
and Pat Law (
Goodstuph
) - on social influence marketing.
oke. cun kan banner contest ni? hmm. Nuffnang kalau nak bagi something, of cos kena buat assignment kan? oke. untuk assignment kali ni, they alls nak tahu, why you're cool enough untuk layak ke World's Coolest Intern ni?
oke. i nak terang satu-satu pun nanti orang kata i riak. tapi memang contest ini suruh kita explain kenapa kita layak kan? hmm. oke. i list dekat bawah ni. jom baca!
Standard Chartered Bank is on the lookout for the '

World's Coolest Intern

' to join the

Breeze

mobile banking team in Singapore. If Tweetdeck and Facebook are the first things to greet you in the morning and the last things you say good night to, you're exactly the type of person they're looking for!
Yes, I am! itu jawapan pertama i. rutin harian i adalah bersama internet. even i bekerja, tapi setiap pagi selepas bangun tidur dan setiap malam sebelum i masuk tidur, i takkan pernah missed untuk tengok facebook and my blog. hmm. tak percaya? see.
~ kawan-kawan yang i kenal dari blogging!~
The winner for the 'World's Coolest Intern' role will be required to:
Provide creative ideas to promote Breeze using various social media channels, and to conduct brain storming sessions with peers to source campaign ideas

Support the Breeze marketing manager in managing projects and executing campaigns/initiatives

Work with internal stakeholders and external partners to manage all social media assets and to organize outreach events, including:

Update and maintain the Breeze blog, including posting relevant articles and responding to posts/comments

Update and maintain the Twitter account

Update and maintain the Youtube account

Update and maintain the Flickr account

Organize/launch social media marketing/outreach activities such as bloggers' meet, tweet-ups, etc.
hmm. i think, perkara-perkara di atas memang adalah suatu perkara wajib kan untuk seorang the winner's of World's Cool Intern?
A social connector and strong communicator in English
oke. i admit yang i kurang dalam english language. but i'm willing to learn! and i ready to improve my english language skills. that's why i working in Hospitality Industries. sebab hanya dalam bidang ini sahaja kita boleh bertemu dengan ramai orang yang berlainan bangsa, budaya, agama dan the way to speak out.
oke. i hope i dapat join they alls training dekat Singapore tu. hiks!~ sebab training tu memang really attracted me to join! hmm.. i think, that will be my precious moment in my life. i hope!
hope my dreams come true!~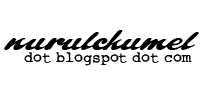 ---
Thanks for visiting my site.

Like and Share this entry if you think its very useful. And please do leave your comments below ya!

Love, ♥ Nurulchumel ♥
---