oke.
tentunya u alls tak sabar kan menantikan pengumuman contest ni?
oke. tanpa membuang masa, i nak umumkan dulu pemenang hadiah saguhati.
..
..
..
..
..
consolation prizes goes to..
.Miza Yusof.
.peserta terakhir yang i terima sebelum jam 12 tengah malam tadi.
.sangat kreatif persembahan entry beliau. dalam bentuk pantun.
anda akan menerima hadiah misteri tersebut.
sila email nama penuh, alamat lengkap dan no. telefon
ke nurul.purplechumel@gmail.com
oke.
mesti u alls berdebar-debar kan?
sabar..sabar..
The Winner of Pertandingan Selami Hati Nurul goes to..
..
..
..
..
..
..
..
..
..
..
..
..
..
..
..
..
.Nurlisa Afha.
.peserta kelima yang menyertai contest ini.
.entry yang sangat bersahaja tetapi padat.
.menaruhkan gambar yang i tak expect langsung beliau akan letak.
.entry yang sangat menarik.
Lissa akan menerima perfume paradise yang i akan pos bersama-sama dengan hadiah saguhati. oke. jangan lupa email nama, alamat lengkap dan no telefon ke nurul.purplechumel@gmail.com


congratulations untuk Lissa dan Miza.
kepada peserta yang lain, jangan kecil kati ye?
at least kita boleh terus keep in touch kan?
thanks for joining my contest.
teruskan menyokong blog i.
pastinya i juga akan menyokong u alls!
tata!!~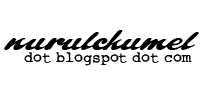 ---
Thanks for visiting my site.

Like and Share this entry if you think its very useful. And please do leave your comments below ya!

Love, ♥ Nurulchumel ♥
---