Salam.
#This entry will submit to Nuffnang regarding the chance to win the Olympus PEN Lite E-PL3 or the Olympus PEN mini E-PM1!
Bercerita tentang pengalaman yang paling menggembirakan dalam hidup I. Banyak. Tapi, dalam banyak banyak pengalaman paling manis adalah saat I dan dia meluangkan masa bersama. Tak tergambar betapa indah nya saat itu.
Mengenalinya adalah kenangan paling indah dalam hidup I. Mengenali cintanya pula adalah suatu memori yang takkan pernah
I lupakan seumur hidup I. Sebab tu I luahkan segalanya di sini, supaya bila I dah tua, I boleh baca dan ingat balik kenangan indah bersama nya. Saat suka dan duka.
Bercinta dengan dia membuatkan hidup I sangat bahagia. Semoga saat bahagia ini akan di akhiri dengan ikatan yang sah iaitu ikatan perkahwinan. Semoga cinta kami makin mekar seiring dengan bahagia yang hakiki. :)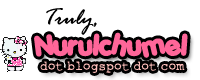 ---
Thanks for visiting my site.

Like and Share this entry if you think its very useful. And please do leave your comments below ya!

Love, ♥ Nurulchumel ♥
---