Salam.
6th Annual Dinner - part 1
Before korang baca the second part, korang boleh baca dulu first part. Just a lil bit introduction. About our 6th Annual Dinner. Tak sangka, sekejap je masa berlalu. Diam tak diam dah masuk bulan December. Macam tak percaya. Dah lepas pun annual dinner. Theme of the night is Colors of Malaysia. Bila tengok tajuk tema macam simple, biasa biasa but it was a great experience actually. Macam macam dress and costume yang I tengok malam tuh. Takde lah gempak sangat. But still oke la. Tak banyak yang I nak story. I upload gambar banyak banyak banyak supaya korang akan muntah darah tengok I posing. HAHA! :P
Gambar neh di snap sebelum kitorang naik Pacific Ballroom. Ini lah office tempat I bekerja. Just back of reception counter. Star pada malam itu, kami. (Maybell Chai and I).
Admin, Sales and Maintenance Performance.
Sorry! Kualiti gambar kurang memuaskan. Neh masa I tengah buat performance. :)
Neh baru nak start sing a song - Ayat ayat cinta. :')
Me and Kak Aisyah. Single lagi tak akak neh. Sales Manager lak tuh! :)
Me and my boss - Mr. David Wong. Dah tak available yek! =)
Front office team. :P
Lets eat paddle pop ice cream yang yummy! :P
Ada chance tak nak jadik model? hikhik!
1st runner up for Avillion Idol. :)
Dapat trophy, sijil and buffet luch voucher for two paxs at Bayview Hotel Melaka.
Hadiah lucky draw. Sape nak?!!
So far, malam tuh best la. Tapi tak se'cool' tahun lepas. Tapi oke lah. Dapat voucher pergi Bayview Beach Resort Penang. Hmm. Macam tak nak pergi jek. Sape nak beli voucher neh boleh contact I yek. I jual murah jek. Sementara stok masih ada! :')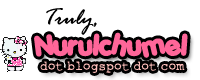 ---
Thanks for visiting my site.

Like and Share this entry if you think its very useful. And please do leave your comments below ya!

Love, ♥ Nurulchumel ♥
---