Salam.
Join contest lagi!
Hope kali neh rezeki berpihak pada I.
:')
Siapa nak join, boleh direct click sini oke http://freakinfaketwins.blogspot.com/p/contest-blog-superawsome-by-shaza_22.html !
Hadiah yang ditawarkan memang sangat best!
FIRST PRIZE :

RM 1

5

0

wang malaysia , A korean handbag < purple > , A korean jacket ,A pashima shawl <black > and Top up RM 30 (Maxis,Digi,Celcom)
SECOND PRIZE :

RM 50

, A korean handbag <purple> Top up RM 30(Maxis,Digi,Celcom)
THIRD PRIZE :

RM 50

wang Malaysia and RM 10 TOPUP (Maxis,Digi, Celcom)
Kalau tak nak top up . Sha Boleh Edit blog korang . Nak Edit Blog cume boleh pakai [denim , washed danim dan blogskin]
SAGU HATI (2 PEMENANG) : header and Jam tangan Jenama guess . (Based on your request).
I tag Emieysandra dan Aida Azryn to join this contest.
Hope, rezeki I ada di sini.
#wishmeluckya!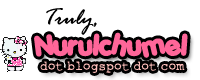 ---
Thanks for visiting my site.

Like and Share this entry if you think its very useful. And please do leave your comments below ya!

Love, ♥ Nurulchumel ♥
---