Salam.
Tomorrow is the day!
I ucapkan selamat menduduki peperiksaan akhir semester yang ke-empat (04) kepada insan yang teramat I sayang, Encik Bobo. Semoga beliau dapat menjawab dengan tenang dan mudah.
Another one year to go, untuk habiskan bachelor beliau. Hope beliau akan sentiasa dapat markah yang terbaekkk dan lulus dengan cemerlang, gemilang dan terbilang! Amin.. :')
Dan untuk korang korang semua yang bakal menghadapi exam jugak esok macam Intanurulfateha, good luck jugak yek! I have a special wish for you all!
Life never seems to be

There is no perfect life but we

can fill it with perfect moments.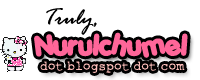 ---
Thanks for visiting my site.

Like and Share this entry if you think its very useful. And please do leave your comments below ya!

Love, ♥ Nurulchumel ♥
---