Salam.
So sorry sebab I terpaksa guna perkataan yang tak sepatutnya dalam entry neh. Sangat sakit hati sebenarnya dengan kejadian pagi tadi. Hari neh I'm working on morning shift. So, as usual duty morning shift tak lain tak bukan adalah untuk men-check out-kan guest.
Pagi pagi lagi Cida dah pass message dekat I yang guest bilik 1119 tuh very rude. Cida kena maki masa dia nak order room service malam tadi. Guest tuh call coffee house, tapi nobody pick up the phone. Dan macam biasa lah, kalau dah department lain tak angkat, confirm call tuh akan bounce dekat reception counter. Dan Cida pick up. Dia maki Cida. Word yang sama kot. Stupid! Bloody Hell!
So pagi tadi terkena pulak dekat bilik dia jugak. I explained to him that he need to pay the balance of his room charge. Then he asking me, why he need to pay the balance? Supposed his room bills is already settled. Then at the same time, my supervisor standing beside me. Than she was take over my duty.
I terus check out kan another guest sebab guest tadi tuh tak faham dengan bill dia. Supervisor nak explain, tapi guest tuh maki maki. Yang paling takleh blah dia cakap kitorang bodoh. Dia maki kitorang. English si jepun neh bukan power naw, cakap tersekat sekat pastu suara kasar gila. Satu lobby dengar dia menjerit.
Kitorang nak check dulu, dia tak nak. Dia kata sepatutnya kitorang semua kena tau pasal rate. Ape dia ingat rate dalam hotel neh ada satu jek ke? Berpuluh puluh figure kitorang kena hafal. Pastu dia jerit, "you should know about this!!!" Supervisor I jawab balik, "we are not working here 24 hours, sir. let me check first with my colleague regarding this rate because I am not the one who check in you." Guest tuh jerit lagi kuat. "I don't want to know your problem. I am asking you, how you get this figure, stupid!"
Supervisor I memang tak leh sabar dah. Dah banyak kali kot dia keluarkan perkataan tuh. Supervisor I cakap dekat dia. "Mind your language ya! You too much! If u still like this, I have to call my manager." "Call your manager now!!!" Satu lobby pandang kitorang. Malu nya!!
Bila boss I sampai, boss I check balik rate tuh, than rupanya, rate tu tak sama sebab dia tambah satu lagi bilik dan dia dapat corporate rate instead of normal rate. Guest tuh dah puas hati sikit la, tapi still nak maki maki. Memang hobby dia maki orang kot. Boss I suruh dia bayar, and dia terus blah.
Siyesly kitorang memang bengang gila dengan dia. Penat la faced dengan problem macam neh. Tension gila. Dah la bodoh, dah tu tak nak dengar plak tuh kitorang explain. Kalau english dia berabuk takpe gak. Ni tergagap gagap, pastu nak tengking tengking kuat kuat plak. Hope lepas neh I tak jumpa lagi guest macam neh. Sabo jela... =.="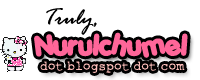 ---
Thanks for visiting my site.

Like and Share this entry if you think its very useful. And please do leave your comments below ya!

Love, ♥ Nurulchumel ♥
---