Salam.
Nowadays, ramai yang buat contest, giveaways, and invite I suruh I join. Tapi I neh memang lah pemalas gila bxxx kan. Dan tadi, masa blogwalking blog kawan kawan I, I terjumpa giveaways ni. Hadiah dia boleh tahan lumayan. Tapi ini semua bergantung pada nasib. Sebab I banyak jugak join giveaways neh, janji nak hantar hadiah, tapi sampai sekarang neh bayang hadiah pun tak nampak. Takpe. I tak marah, cuma lain kali tak payah nak berjanji sangat lah kan kalau tak nak bagi tu.
Opps, melalut pulak. Oke, berbalik kepada

mega giveaway

yang I jumpa tadi. I baca entry giveaway tu, then I decide nak join. Hmm, rasa nya dah ramai yang join kot. I jek yang lambat. Keh3!
Click HERE to join!
Terms and conditions nya banyak. So, I malas nak letak. Tapi yang pasti, korang kena follow raaaaamaaai orang! Kena like baaaaaanyaaakkk page! Tapi hadiah nya, lumayan beeeeeeeebbbbb... Ni semua link sponsors yang menaja mega giveaway neh serta hadiahnya. Korang kena follow dan like!
Apa lagik? Jom la join contest neh! I tag SEMUA yang baca entry neh untuk join mega giveaway neh! Tapi jangan risau, masa I blogwalking nanti, I tag korang yek! Tunggguuuuu! :')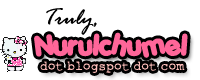 ---
Thanks for visiting my site.

Like and Share this entry if you think its very useful. And please do leave your comments below ya!

Love, ♥ Nurulchumel ♥
---