Salam.
Tukar wajah? Takde lah tukar sangat. Just tukar background, tukar header, change color sikit sikit, tukar menu bar, edit sana sini sikit, pastu...
TADAAA!!!
Blog dah macam baru!
hmm. Untuk sesiapa lagi yang nak hire me to edit their blog dengan harga yang murah dan sangat berbaloi, jangan malu, jangan segan, click HERE to contact me! Dekat menu bar atas tuh pun dah mention dah. Click jek situ oke? Cun ke Nurul neh edit? Kang makin caca marba kang cane? Takpe, korang review dulu blog blog yang I dah edit. Click HERE! Kalau suka, baru order. Kalau nampak macam, "arghh aku pun boleh edit sendiri!", so jangan la gatal sangat tangan tuh nak order!
Selain itu, nampak tak I ada buat tapak iklan tuh? Masih ada kosong. Korang nak advertise blog korang dekat sini pun boleh. Semua yang kat atas tuh iklan berbayar tau. Harga untuk iklan kan blog korang just RM5/month. Murah kan? So, sesiapa yang berminat boleh contact I jugak.
p/s : ehem, amacam? oke tak rupa baru blog I kali neh? :'P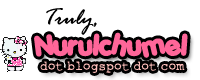 ---
Thanks for visiting my site.

Like and Share this entry if you think its very useful. And please do leave your comments below ya!

Love, ♥ Nurulchumel ♥
---