Salam.
Last Sunday, I dengan my family pergi attended wedding dinner dekat Bora Asmara, Kuala Lumpur. Area Sungai Penchala. Tempat dia memang classy. Very cozy. Versatile gila! Makanan yang di sajikan pun mabeles! Actually, this wedding belongs to my relatives jugak. So, we alls are invited.
Tak banyak yang I boleh cerita. Gambar jek yang banyak. Tempat dia memang sesuai untuk photoshoot kot. HEHE! But wedding tuh memang meriah. Tema merah menjadi pilihan mereka. Apa lagi, jom tengok gambar! Unedited version lagik!
My siblings.
Buffet Line.
VIP Table.
Fondant Cake. Yummy!
So simple pelamin.
VIP table lagi!
Musician.
Bride and Groom!
Them again! Eat time.
Lovely!
Cake cutting session.
My cutey cousin, Soffiyah!
Me!
With our souvenir. :)
Our family with groom and bride!
Going out!
Beside guestbook table.
Me at Bora Asmara signature!
For the conclusions, malam tu memang sangat best. Sebab dapat makan sedap sedap and dapat amek gambar banyak banyak! Hish! Teruk betul kan? HAHA!! >.<"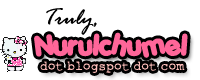 ---
Thanks for visiting my site.

Like and Share this entry if you think its very useful. And please do leave your comments below ya!

Love, ♥ Nurulchumel ♥
---