Salam.
Agak nya ini la rezeki bulan April 2012. Diam tak diam, dah 4 bulan dalam tahun 2012. Sekejap je kan? I pun tak expect yang I dapat BE neh. Tapi bila dah dapat, I sangat appreciated. Lepas ni nak hantar ticket dekat Nuffnang la. :)
Thanks guys!
Hope lepas neh pihak Nuffnang akan lebih bermurah hati untuk memberikan buffered earning kepada blog kerdil I neh. Happy sangat! Kalau dapat lagi banyak lagi happy kot! >.<"
Dont forget to VOTE ME!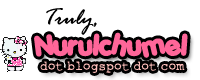 ---
Thanks for visiting my site.

Like and Share this entry if you think its very useful. And please do leave your comments below ya!

Love, ♥ Nurulchumel ♥
---