Salam.
Actually baru last month I design kan blog Cik Hanan neh. Tapi atas sebab sebab yang tak dapat nak dielakkan, beliau terpaksa menukar design untuk bentuk dan header blog beliau. Kesian beliau. Blog beliau kena godam. HEHE. Sabo ye yunk! Kalau nak tengok design lama, klik sini oke! Kat bawah ni design baru blog beliau!
Beliau nak design yang simple, tapi ada combination warna red and purple. I design ala-ala 3D gitu. So, terhasil lah design ini! Hope beliau suka design blog beliau kali neh!
Anyone yang nak tempah design blog simple se-simple simple nya macam ni? Mudah saja. Just email me at
nurul.purplechumel@gmail.com
. Nak tengok hasil kerja I? Klik
HIRE ME
for observing! :)
Don't forget to VOTE ME!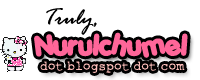 ---
Thanks for visiting my site.

Like and Share this entry if you think its very useful. And please do leave your comments below ya!

Love, ♥ Nurulchumel ♥
---