Salam.
Blog : Premium Beautiful Asi'dah
Url : http://norasidahwen.blogspot.com/
Tagline : My beautiful journey from zero to hero!
Theme : Soft green, matured, simple.
p/s : Blog Premium Beautiful (PB) yang ke-6 yang telah I make-over. Even nampak simple, tapi I suka pulak dengan design neh. Let's slim and healthy with PB!
Dont forget to VOTE ME!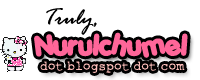 ---
Thanks for visiting my site.

Like and Share this entry if you think its very useful. And please do leave your comments below ya!

Love, ♥ Nurulchumel ♥
---