Salam.
Lama kan I tak update? Oke now, I nak update the latest blog yang I baru siap edit.
Url : http://khalishbz.blogspot.com/
Tema : Purple, Simple
Tagline : Your Beauty Zone..
Kak Safia ni menjual produk yang sangat baru di pasaran. Produk kecantikan yang sangat berkesan untuk kulit yang bermasalah. Produk ini halal, berkesan dan tiada kesan sampingan. Tiada pengelupasan dan harga yang ditawarkan untuk set 4 in 1 hanya serendah RM100 untuk semenanjung Malaysia dan RM110 untuk Sabah dan Sarawak.
Jom terjah blog Kak Safia. Kalau inginkan kulit yang berseri, boleh la hubungi Kak Safia. Klik http://khalishbz.blogspot.com/ untuk maklumat lanjut. :')
Click HERE to earn extra money!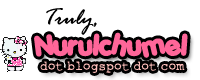 ---
Thanks for visiting my site.

Like and Share this entry if you think its very useful. And please do leave your comments below ya!

Love, ♥ Nurulchumel ♥
---