Salam.
Second blog for today is...
banner!
Blog : Cik Mimi Oh Lala
Url : http://stella0873.blogspot.com/
Description : Learn from yesterday, Live for today and Hope for tomorrow.
Theme : Simple, neat, tidy
Color Required : Green
Blog ni blog newbies. So jemput la datang melawat sambil berkenalan dengan si comel yang bernama Stella ni. Hope you enjoy it!
Click HERE to earn extra money!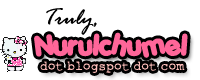 ---
Thanks for visiting my site.

Like and Share this entry if you think its very useful. And please do leave your comments below ya!

Love, ♥ Nurulchumel ♥
---