Salam.
Huhu. Lambat nya lah Nurul ni nak update entry sekarang ni. Ni lah akibat putus cinta. Semuanya serba tak kena. Kepala otak serabut memanjang. Takpe, here I update dua lagi blog yang I dah selesai edit. Dua dua blog ni memang sangat kesian tau, sebab kena tunggu laaaaaama sangat I nak siapkan. Kejam nya Nurul! Dah la pasal lappy buat hal hari tu, pastu busy kerja, pastu ada personal problem lagi. Ya Allah, ampunkan daku! Oke, mari tengok dua blog yang I maksudkan tadi.
Description : Memaparkan kisah suka duka Azalea dalam menjalani kehidupan seharian.
Theme : Simple, Tidy
Color Required : Earth color or pastel
Blog : Lurve Nuqman's
Description : No matter how much we consider the future, no one can see the truth.
Theme : Simple, Tidy, Cute
Color Required : Soft and lite Purple
Dua dua owner blog ni memang comel. Sabar pulak tu. Tapi minta maaf banyak banyak sebab lambat siapkan blog walaupun design Nurul ni tersangat la simple. Hopefully kedua duanya berpuas hati yek. Thanks for always do supported me! Appreciated sangat!
Looking for gifts for birthday, wedding, anniversary etc?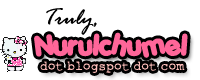 ---
Thanks for visiting my site.

Like and Share this entry if you think its very useful. And please do leave your comments below ya!

Love, ♥ Nurulchumel ♥
---