Salam.
Actually, story ni dah nak hampir basi pun. Takde time dan kekangan masa membantutkan mood untuk I bercerita. Kadang kadang rasa macam tak penting pun nak story dalam blog. Tapi bila fikir fikir balik, kejam nya haku. Dulu kan, every single things nak story dalam blog. Sekarang apesal lah kau malas sangat ni Nurul??
Oke, straight to the point aje lah oke. Last month, on 27th June 2013 hotel buat Five Star Award. Oke, For your info, ini five star award yang ketiga since I joined this company. Five star award yang lepas tu I takde mood nak story sebab I tak dapat apa apa. Ngee.. Kali ni I ada semangat sikit nak story sebab I ada menang. Hehe.
Gambar gambar sekitar majlis berlangsung.
Theme of the night : Glamorous Purple and Black
Pejam celik pejam celik dah 1 tahun 3 bulan dah I kerja dekat The Majestic Malacca ni. Terharu nya sebab tak sangka I dapat bertahan lama. Dari culture shock sampai dah jadik lali with the things happen in this hotel.
First photo uploaded in Instagram. Speechless sangat!
Tak sia sia la I bekerja berpenat lelah selama ni. Lastly terbayar jugak. Maybe orang akan kata, "alahmakkk, berlagak. Baru dapat five star award sekali pun dah nak speechless. Tah pape tah nurul ni.." What so ever la. Tapi kan, korang ingat senang ke nak dapat award ni? Gigih tau bekerja. Apa yang I dapat dengan award ni? Takkan la sehelai sijil kosong aje?
Ehemm! See. I got something. Thanks Allah!
I sangat bersyukur sangat sebab ada jugak yang pandang kerja yang I buat selama ni. Mungkin I tak sebagus staff lain, but I terharu sangat sebab ada jugak yang appreciated. Thanks.
"Err.. I dah ada dah sponsor for our honeymoon. Tinggal pilih tempat je. Encik bakal suami, sila pilih satu tempat dekat oversea pulak ye! Ngee.. Gatal! Tunang belum, nikah belum, dah menggatal nak pergi honeymoon. In your dreams lah Nurul!"
Looking for gifts for birthday, wedding, anniversary etc?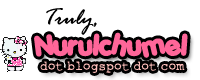 ---
Thanks for visiting my site.

Like and Share this entry if you think its very useful. And please do leave your comments below ya!

Love, ♥ Nurulchumel ♥
---