Salam.
Walaupun I ada dekat Japan buat masa ni, informasi pasal Malaysia I tak pernah lupa. Lebih lebih lagi bila berlakunya kejadian yang sangat menyedihkan ni. Semua orang tertunggu tunggu laporan selanjutnya tragedi kehilangan pesawat Malaysia Airline flight (MAS) MH 370, Boeing 777. Pesawat tu berlepas dari Kuala Lumpur International Airport (KLIA) dan dijadualkan mendarat di Beijing, China pada awal pagi semalam, 08th March 2014 ETA 06:30 hrs. Tetapi sampai sekarang belum mendapat apa apa khabar berita tentang pesawat tu.
Macam macam spekulasi yang dikeluarkan oleh pihak media, tidak ketinggalan juga blogger blogger yang sibuk update macam macam pasal kes ni. Tak kurang juga ada yang sibuk komen macam macam dan buat kenyataan tanpa memikirkan sensitiviti orang lain.
Apa yang penting sekarang, kita doakan je semua yang berada dalam pesawat tu selamat. Jangan la kita buat kenyataan sendiri selagi belum disahkan kesahihan nya. Doakan yang baik baik je untuk mereka.
Let's pray for them!
Share the advertisement, and you will get paid. Click now for money! Yeeha!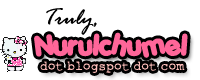 ---
Thanks for visiting my site.

Like and Share this entry if you think its very useful. And please do leave your comments below ya!

Love, ♥ Nurulchumel ♥
---