Salam.
Wee. I hari ni super excited sebab dah 2-3 hari tak buka blog. Hari buka blog nampak link ni. http://merahitujambu.blogspot.my/2016/08/pemenang-contest-doodle-family-raya-by.html . Alamak! Rupanya puan organizer contest dah update minggu lepas rupanya! Baru perasan hari ni.
Sejak dah lama tak join contest ni, sekali join contest and menang, semangat I nak blogging makin membuak buak. Kalau lah dari dulu semangat I membara macam ni, mesti I dah jadi celebrity blogger kan? Mohon jangan muntah! I memang suka perasan! Kah Kah Kah!
Hadiah yang I dapat ni sangat cute hokey! Kalau nak tempah kat cik puan organizer ni kena bayar tau. Dia punya doodle kemain comel. Jom tengok hasil doodle kite!
Hasil doodle!
From this!
Cantik ke cantik?
By the way, Alhamdulillah Terima Kasih yang tak terhingga sebab sudi pilih gambar kami.
#psst! Sapa yang ada buat contest lagi cepat contact I! I nak join! :)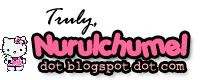 ---
Thanks for visiting my site.

Like and Share this entry if you think its very useful. And please do leave your comments below ya!

Love, ♥ Nurulchumel ♥
---