Salam.
Kesian kan? Orang lain dah tiga empat ketul buffered earning. I baru nak dapat seketul. Whatever la. Janji dapat. Thanks a lot Nuffnang! Lama betul I tak dapat BE. At last I dapat jugak. Kempen kali neh is under Maxis Internet Facebook Data. Don't know how long they will stay with my blog. Tapi oke la. As long ada BE, I dah tak risau dah. Dapat traffic banyak pun, BE takde pun tak guna gak kan? hikhik!
Tentang total pageview pulak, semalam adalah pageview yang tertinggi setakat tahun 2012 ini. Bila I publish jek
entry ini
, traffic berpusu pusu masuk. Thanks all! Memang tak dinafikan yang topic
Lisa Surihani
memang favorite keyword since I memang sangat adore dengan beliau. See!
Highest pageview. 24 Feb 2012.
Alhamdulillah. Berkat kesabaran dan usaha serta bantuan korang semua, I dapat mengecap kenangan terindah ini. Doakan I terus success untuk blogging oke! >.<"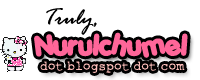 ---
Thanks for visiting my site.

Like and Share this entry if you think its very useful. And please do leave your comments below ya!

Love, ♥ Nurulchumel ♥
---