.sticky post until 30th November 2010
scroll down to the next entries!~


hye u alls.
today, i nak ajak semua warga blog join ramai-ramai contest mudah lagi menyeronokkan ini!
banyak hadiah hebat menanti para pemenang!
i tak harap sangat yang i menang. tapi try to win!
oke. apa tunggu lagi?
jom ramai-ramai sertainya sekarang!!
untuk maklumat lanjut, sila klik --->
HERE!
dan juga jangan lupa klik --->
HERE!
selamat mencuba! papai! :)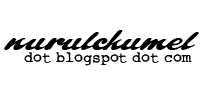 ---
Thanks for visiting my site.

Like and Share this entry if you think its very useful. And please do leave your comments below ya!

Love, ♥ Nurulchumel ♥
---